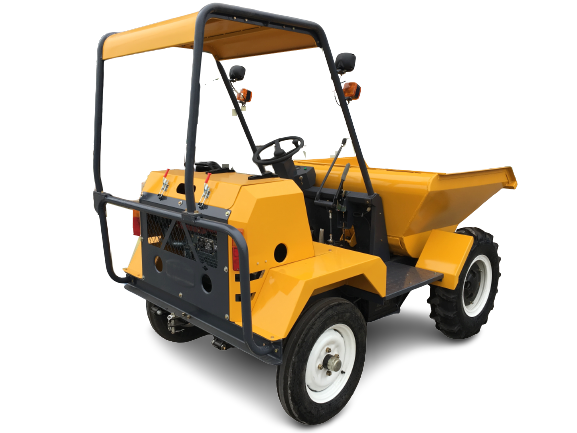 1.5ton Hydraulic dumper(HS code 843050900)(tough rider)(skip loader)
Model SD15-11D(FCY15)
Payload 1500Kg
Engine power Model S1100BNM
Type Horizontal single-cylinder four-stroke
radiator water-cooled
12 Hours rated power/Rev 11kw/2200rpm
Capacity of bucket 0.75m3
Drive type 4by2
Max.speed 22km/h
Grade ability 21%
Wheel base 1500mm
Tread Front 1320mm
Back 1290mm
Min.turning radius less than4m
Overall size 2795 plus 1600 plus 2060mm
Weight 1250Kg
Hydraulic tipping hopper,electric starting engine,steel driver shield,full engine casing,ergonomic seat
One 20ft container can load 6 units in 2 decks.
Kubota dumper price is higher than Changfa dumper price.
Isuzu dumper is much higher than Chinese diesel engine powered mini dumper.
mini dumper kubota tech is available because Golden Fish RN140D is copy type Kubota engine.
Yanmar dumper is not economic choice because 3cylinders Yanmar diesel engine is often equipped in mini excavators rather than mini dumpers..
Dumper 1t and Dumper 1.5t are our best sellers.
dumper 3 tonnes are welcomed in Peru, Columbia, Guatemala, Ethiopia, Nigeria, Chili.
dumper 4×4 segunda mano autocargable or Dumper 4×2 can be provided anytime.
dumper auto ou dumper a vendre en Cote Divoire, DRC, MALI,MAURITANIA.
We have dumper truck for sale now and Mini dumper for sale.
mini dumper a venda, Remote control dumper is not available now. But we can provide video about how to drive a dumper, dumper truck,Dump and dumper.articulated dump trucks.
3tonne dumper articule is ok, not necessary for 1.5tonne. We produce 1.5tonne dumper rigide, dumper rigido.